T

ime for Fall! I'ts my favorite time of the year. Even though it's still warm here in the desert, I felt that urge to pull out all the fall decor and put away the summer blue coastal decor. After all it was the last day of summer and while we were preparing for Sukkot, it just made sense. What a fun project! Plus it's all on a budget. Yes!
I never unpacked my Fall decor box since our move, so it was easy to find.
Do any of you have a box like this? Well I'm sort of organized. So it's not in a nice clear tub, oh well!
Oops! I labled it "Thanksgiving". Ha ha, the things you'll do when you are packing.
How to Decorate a Baker's Rack for Fall?
I first started with my bakers rack in our kitchen/dining area. This is one of my oldest pieces of furniture we bought when we were first married. This piece has been used for various things and in many rooms. It's so adaptable and since I don't have a china cabinet, it's my special piece that gets to be all decked out for the seasons.

Now, I love victorian decor with a little bit of French country, modern trend and some retro 50's in there. It's fun to mix it all in. So here we go!
I have pottery dishes that my sweet Grandmother gave me when I was a little girl. I've kept them and they always look so pretty with fall decor, special tea cups, I'd say!
Fall Centerpiece
Now on to the table scheme. I love adding orange, green and earthy colors.
I created this with some beans at base. That's it. Very earthy, I might say. Simple it is. And we must not forget our candles!
Deck the Mirrors
Adding a pretty fall piece to any mirror hanging in your home gives it that Victorian holiday flair.
Apple Pear Cinnamon Delight
Want a yummy fall treat for the family? This is great mixed in hot oatmeal or just as a side dish. Here's an easy peasy fun treat you could make in your sleep!
Apple Pear Cinnamon Delight RECIPE:
2 apples
2 pears
1 TBSP cinnamon
2 TBSP of lemon or lime juice
1 TBSP powdered sugar

Chop up fruit. Combine in bowl. Drizzle lime/lemon juice over top.
Sprinkle Cinnamon and powdered sugar.
Mix before serving.
I hope you were inspired by my Fall ideas!
These are just a few ideas for you to get started and to use what you already have in your own home. It pays to keep all of the seasonal items together and organized by colors. I enjoy seeing how others decorate their home for Fall too. Here are some links for more fall inspiration.
Autumn Home Decorating Ideas:
http://www.homegoods.com/blog/2011/09/27/a-fresh-look-at-victorian-decor-for-the-21st-century/
http://www.victoriamag.com/slideshow.aspx?id=8922&slide=3#slideshow
http://www.shelterness.com/20-fall-decorating-ideas-with-using-dry-leaves-and-fruits/pictures/1235/
Here at the

little Pink casa

, we are so ready for Autumn. Now, just got to get my fall wreath on the door. :)
Have you started decorating for Fall yet?
Which one of my fall ideas was your favorite?
Are you going to use my FREE Fall in Love printable?
Blessings and Shalom,
Visit me on Pinterest and Follow my Autumn board for more ideas.
I've also added this post to the A Wise Woman Builds Her Home link-up party.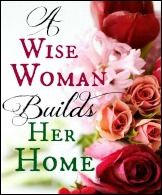 Labels: autumn home decorating ideas, baker's rack, decorating for fall, diy, fall decor, fall recipe, free fall chevron printable, free printable