When I was traveling in Wisconsin last Fall, I took this photo. What a beautiful lake it was! The sounds of the leaves dancing in the breeze was refreshing and exhilarating. As I reflected on this beautiful photograph this morning, the Lord reminded me of these verses about the tree planted by the water.
Blessed is the man who trusts in the Lord, And whose hope is the Lord.
For he shall be like a tree planted by the waters, Which spreads out its roots by the river, And will not fear when heat comes; But its leaf will be green, And will not be anxious in the year of drought, Not will cease from yielding fruit.
How blessed are those

who reject the advice of the wicked,

don't stand on the way of sinners or sit where scoffers sit!

Their delight

is in

Adonai

's Torah; on his Torah they meditate day and night.

They are like trees planted by streams -

they bear their fruit in season, their leaves never wither, everything they do succeeds.
As women of faith, we need to trust the Lord. When we do, we are like this beautiful tree. Full of hope and confidence. Our roots go deep and we stand strong. We are grounded and not afraid of the future storms. We continue to pray and know that Jesus is working everything out for our good.
No matter what you are going through today, be encouraged. In due season, you will see your prayers, the fruit of your labor produce a harvest. Keep praying and looking up women of God!
Copyright © 1998 by David H. Stern. All rights reserved.
Linkup Wednesday!
I just joined the link up party hosted by my sweet friend June Fuentes from A Wise Woman Builds Her Home.
Would you like to share your posts on building up your home, homemaking, character, hospitality, femininity, family, tea, recipes, parenting, marriage, etc.? We would love to have you share it with us! Click Here to join the linkup!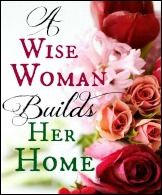 Blessings and Shalom
,
Never miss a post, subscribe today.
Labels: Encouragement, Jeremiah 17, Mom Stuff, Psalm 1:1-3, trust the Lord